Keeping up with your BMW maintenance schedule is a great way to minimize unexpected problems on the roads near Providence or East Greenwich. However, even though BMW vehicles are known for reliability, it's likely that you'll have to deal with more than a few of your BMW warning lights over the course of your vehicle's lifespan.
Skip the guesswork. Check out our guide to the BMW warning light symbols, save it for easy reference, and solve your problems at our Warwick BMW service center.
---
---
BMW Warning Lights: Meaning & Urgency
Your BMW dashboard has been designed to impart all of the information that you need to know as the owner and operator of a vehicle. The most important BMW warning light symbols to know cover each of the following issues and potential problems:
Safety belts unbuckled
Braking system malfunction
Parking brake engaged
Airbag/seat belt malfunction
Engine or emission system malfunction
Steering system issues
Dynamic Stability Control malfunction
Dynamic Stability Control turned off
High beams are turned on
Your vehicle requires service
Engine overheating or low on oil
One or more driver-assist features engaged
Turn signal is active
In general, your BMW warning light's meaning is denoted by the picture that appears on your dash. The severity of the issue, on the other hand, is indicated by color:
Red lights indicate issues that require immediate attention. Proceed directly to your local service center or call a tow truck at the earliest opportunity.
Yellow, amber, or orange lights denote problems which require attention in the near future. Make an appointment or use a scanner to determine the source at home.
Blue and green lights indicate that one of your vehicle's features is engaged and active. These lights are for your benefit; they don't indicate any issue at all.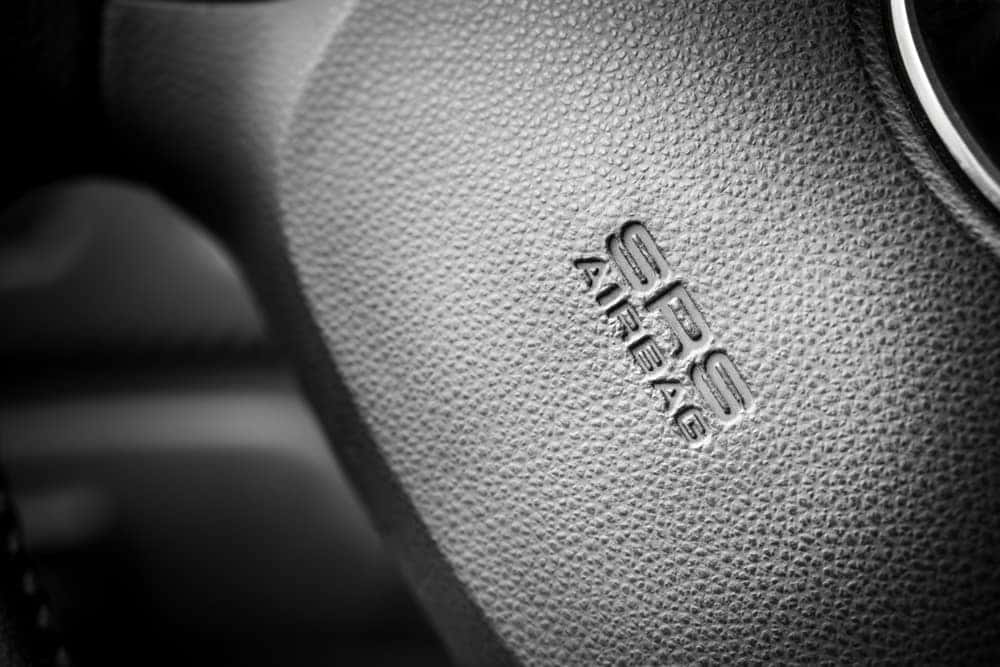 BMW Dash Warning Lights Explained
Understanding your BMW dash warning lights can be easy, and we've collected everything you need to know. Here's a look at the most common BMW warning light symbols and their meanings:
Red BMW Warning Lights
Safety Belt Lights: A person displayed with a seatbelt indicates that the driver or front passenger is not secure. If a torso appears without a seatbelt, it means that a rear passenger is not protected.
Braking System: The word "BRAKE" indicates a potential issue with your braking system. This is never an issue that you should leave to chance, so head straight to a service center or pull over if you notice any issues.
Parking Brake: If you see the word "PARK," or the letter P, circled and in parentheses, your parking brake is engaged.
Airbag/Seat Belt Tensioner: If your dash shows a seated, belted passenger with a circle in front of them, it's indicating a potential problem with your crash protection systems, your seatbelt pretensioners, or your airbags.
Your "Service Vehicle" light could appear in either red or yellow. In the latter case, you're due for service. If it's red, you're overdue. You may see a unique BMW dashboard warning light when you require a BMW oil change, if you've worn out your battery after too many jump starts, or if you're struggling with an overheating engine. Be on the lookout for these, too!
Yellow BMW Warning Lights
Anti-Lock Braking System: When you see the letters "ABS," drive carefully. Your antilock brake system might not be working properly, or there may be a problem with your brake assist feature.
Engine: Noticing a yellow light that looks like a rough outline of an engine? That's your 'check engine' light, and it's telling you to schedule service as soon as possible. (Just make sure to check for a loose gas cap, first!)
Steering System: A steering wheel with an exclamation mark points to a problem with your steering system. It may just be that you need more fluid, but the problem could go deeper. Either way, exercise caution and get it checked out soon.
Dynamic Stability Control Off: If your vehicle includes a Dynamic Stability Control feature, you'll see a vehicle with "S" curves and the word "OFF" when it isn't working properly.
Dynamic Stability Control Issue: If you're seeing a vehicle with "S" curves beneath it, but there's no "OFF" sign, you'll want to have a service expert check out your Dynamic Stability Control feature as soon as it's convenient.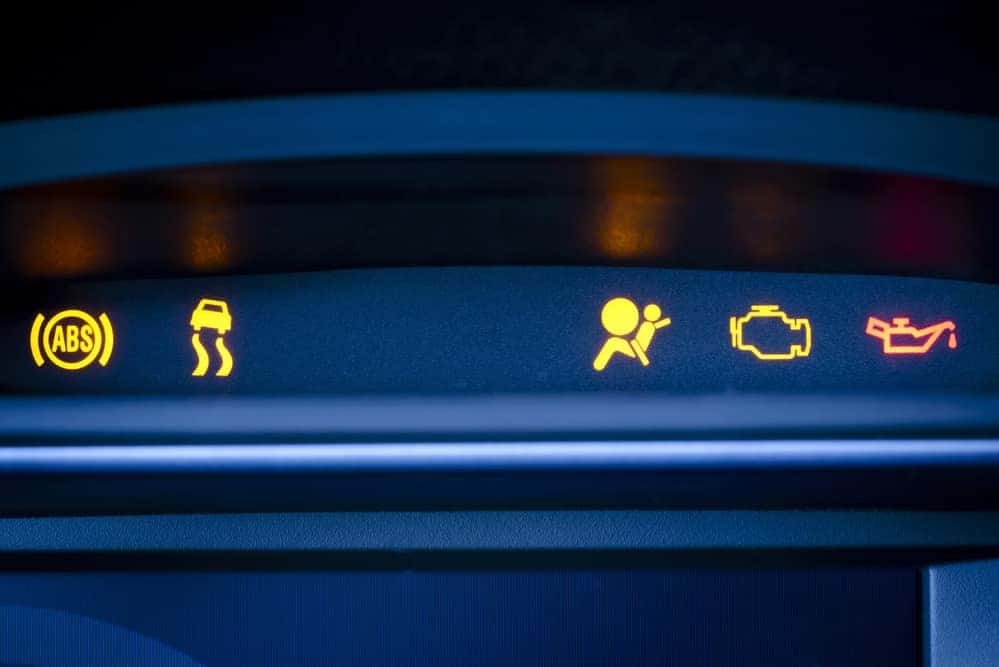 The Tire Pressure Monitor light could also appear in red or yellow. A yellow indicator points to low air pressure in one or more tires, while a red light indicates a flat or a rapid loss of pressure. Hoping to keep your tires at their best for a longer time? Find out how to rotate tires at home.
Green and Blue BMW Warning Lights
Most of the green BMW warning lights will be familiar to Cranston-area drivers. After all, this category includes your turn signal arrows, parking light indicators, and most of your headlight indicators. Green lights also display when your Lane Departure Warning, your High Beam Assist, or your Auto Hold is active.
The only blue BMW warning light that you need to worry about is that which tells you that your high beams are on!
Let BMW of Warwick Address Your Service Needs!
Still having trouble identifying one of your BMW warning lights? Is your car leaking water? If you drive an older vehicle or a model with rare features, you may run into a surprise or two! Give us a call at (877) 361-2363 or make an appointment today. We've got all the information from the makers of BMW, and we'll have your problem sorted out in no time.
BMW of Warwick Service Specials