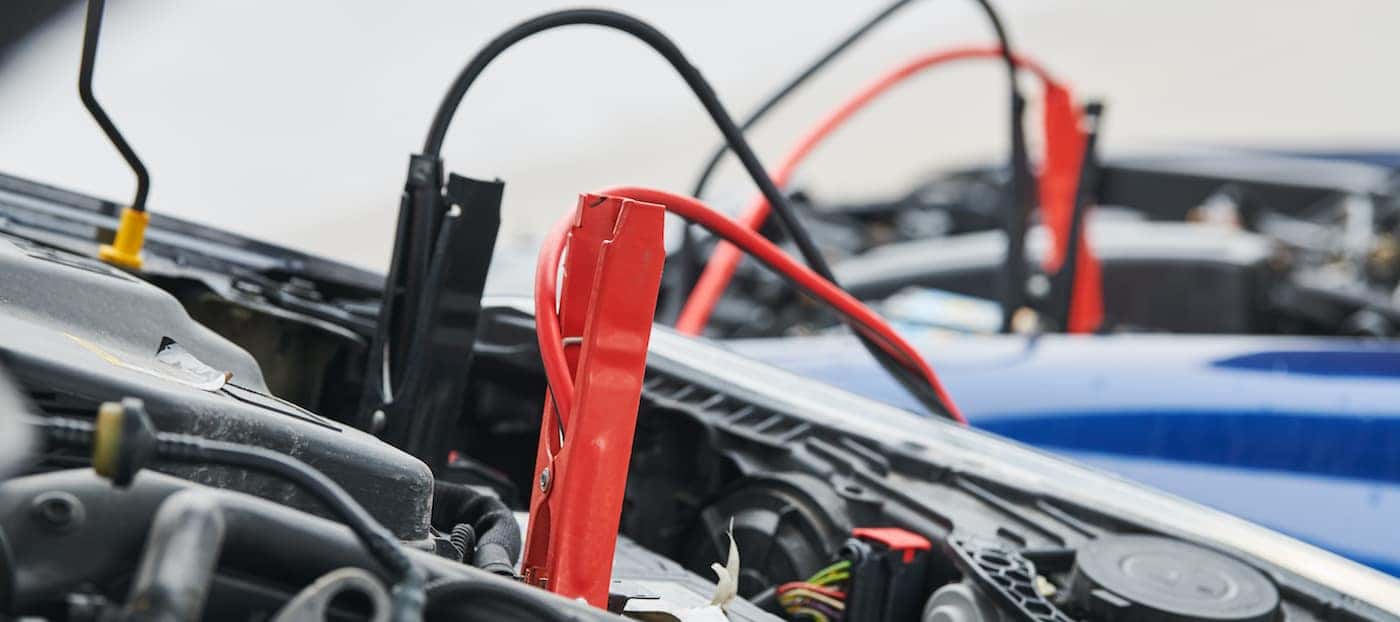 Learning how to jump start a car battery can save you tons of time and energy, and it may give you the ability to help out another driver who finds themselves in a bind! After all, no one wants to call a jump start car service and wait on the side of the road in East Greenwich or Providence. Thankfully, learning the proper way to jump start a car is quick and easy! Our service team has put together a guide with everything you'll need to know.
---
---
How to Properly Jump Start a Car
It's a good idea to keep a set of jumper cables in your trunk or your cargo area as you drive. That way, you'll only need a willing helper with a vehicle of their own in order to get started. Once all that's in order, follow these steps:
Park the vehicles close enough so that the jumper cables can connect them. Locate your battery before you get started, and note that some BMW vehicles have their batteries in the trunk.
Put on thick rubber gloves and safety glasses, then expose the positive and negative terminals on your battery. If they're not clean and free of corrosion, it might be best to call for roadside assistance.
First, connect the positive (red) clamp to the positive (+) terminal on the dead battery.
Second, connect the second positive (red) clamp to the positive (+) terminal on the good battery.
Third, connect the negative (black) clamp to the negative (-) terminal on the good battery.
Fourth, connect the second negative (black) clamp to any unpainted metal surface on the vehicle's frame.
Start the vehicle with the good battery, and let it run. During this time, it's sending power to the vehicle with the dead battery.
Try to start the vehicle that had the dead battery when you started! If everything goes as planned, carefully remove the jumper cables, reversing the order in which you attached them.
Don't turn the jumped vehicle off right away. This may force you to repeat the process. Remember, the best way to avoid similar problems is to schedule regular service and make sure that someone is checking your battery voltage regularly! Know your BMW warning lights, too.
More Battery Tips and Tricks
If your car won't jump start, but you're certain you did everything correctly, there are a couple of ways that you can troubleshoot to find the deeper issue:
Let's say your car won't start at all, even after receiving a charge. If you only hear a clicking sound, the issue might have to do with your starter. However, there might also be an issue with your ignition switch, or a deeper problem with your battery. If you can't identify the issue right away, schedule service.
Let your vehicle run for a while after you start it up. This will allow the alternator to recharge the battery. If you let it run, but you still need to jump start the vehicle the next time you want to get on the road, the issue is likely with your alternator.
Turn to BMW of Warwick for Service
Whether you need to pick up a new BMW battery or you just want someone to take a look under the hood before your next road trip, you can count on us to get the job done right. Schedule service today, or check out our service specials online before you drive in from Cranston.