What is the Recommended BMW Tire Pressure?

---
The BMW tire pressure for most models is 32 PSI (pounds per square inch), but it's always good to check the sticker that's located on the inside edge of the driver's door or your vehicle's owner's manual to confirm. Whether you're planning an exciting trip to East Greenwich or you have lots of errands to run in Providence, your BMW vehicle's tire air pressure must be at the correct PSI. Get more details about the tire pressure gauge, BMW spare tires, and more from the BMW of Warwick service experts who know your vehicle inside and out.
The Importance of Proper Tire Air Pressure
Properly inflated BMW tires can:
Help extend the life of your tires by reducing wheel spin and excess friction.
Help reduce the risk of flat tires or blown out tires.
Improve fuel efficiency by up to 3.3% according to the Department of Energy.
How to Check Your Car's Tire Pressure
Most BMW vehicles have a tire pressure monitor on the dashboard that alerts you if the tire air pressure is low. For a more accurate reading, check the pressure when the tires are cold – and not immediately after driving your vehicle. Follow these steps for checking the tire air pressure:
Unscrew the valve stem cap and put it somewhere safe.
Place a tire gauge onto the valve stem and firmly press down.
The tire pressure gauge displays the PSI. If it's right around the 32 PSI mark, you are good.
Remove the gauge.
If you have more than the recommended PSI, let some of the air out by pressing down the center plunger in the valve stem, and re-check.
If the PSI is below what's recommended, add enough air to bring it up to the recommended level.
Replace the valve stem cap.
You can either fill your tires at home using a car tire pump, visit your local Cranston-area gas station, or visit our Warwick service center for assistance. Don't forget – it's recommended to check your BMW spare tire every six months to a year.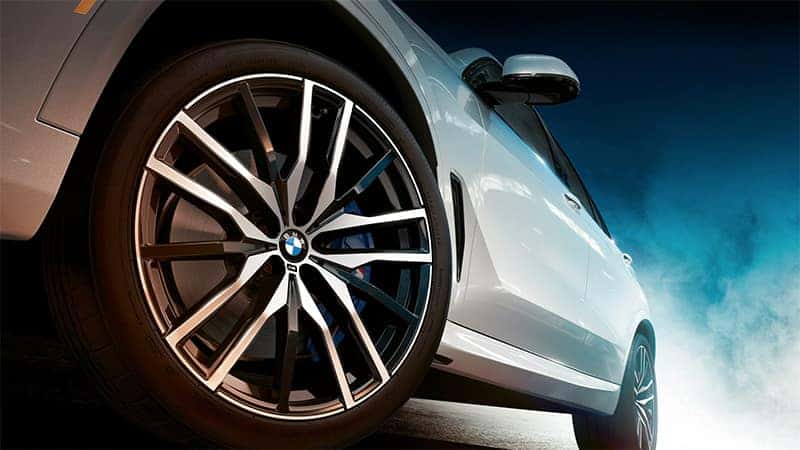 Additional BMW Tire Care Tips
Visually inspect your tires regularly for tread wear or cracks in the sidewalls.
If your tires lose air pressure regularly, there could be a slow leak that needs to get inspected immediately.
Keep up to date with the recommended tire rotation and wheel alignment schedule in your BMW owner's manual maintenance schedule.
If the outside temperature drops quickly, your tire pressure can also drop, which means the warning light may also go on. When this happens, add air at your earliest convenience.
Get Expert BMW Tire Care at BMW of Warwick
The BMW of Warwick Tire Center offers a large selection of BMW tires from major brands such as Goodyear, Michelin, and Pirelli that provides incredible performance, reliability, and safety on the North Kingstown roads. Be sure to explore our rotating selection of service coupons before scheduling a service appointment.
More From BMW of Warwick
The 2023 BMW X5 interior provides optimal comfort and a wide array of premium features that will enhance any drive in and around East Greenwich. The BMW X5 dimensions provide plenty of room for you and your passengers to stretch out, and the BMW X5 cargo space ensures that you won't have to leave anything behind…

The new BMW X7 is a spacious, powerful, and well-equipped Sports Activity Vehicle® that could be the ideal fit for East Greenwich-area families or anyone who leads an active lifestyle. In this guide to the 2023 BMW X7 trim levels, we'll take a look at the specs, features, and starting MSRP of each trim to help…

The 2023 BMW i7 electric sedan offers a refined and athletic exterior design that will undoubtedly turn heads wherever you drive. However, the BMW i7 interior is just as eye-catching, and with its wide array of premium features, will enhance any drive in and around East Greenwich. Learn more about the 2023 BMW i7 interior features…