We Are Here For You
First and foremost, we want you to know we have enhanced our protocols to ensure a safe environment should you need to come into the dealership for either sales or service. Such protocols include:
Steering wheel wraps and seat covers for all customer cars and demos.
Our facility is thoroughly cleaned and sanitized daily.
We wipe all door handles and common touch areas multiple times per day.
All employees are instructed to routinely wash their hands and keep work spaces clean.
We have limited our hours of operation and have converted to appointments only for sales and service.
We have tapped off areas to limit customers from crowding at counters.
Separated all chairs in the waiting room.
We have customers waiting in their cars in the drive until they are ready to meet an advisor.
We are sanitizing all loaner vehicles upon their return.
See below for more information regarding appointments.
We Are Open For Service By Appointment Only
How can I get my vehicle serviced?
We are currently by appointment only. For your convenience, we are booking:
In-store appointments
Complimentary pick up/drop of appointments. We'll come to you!
You may also drop off your vehicle "curbside" at the dealership and we'll get the vehicle from you. No need to come inside.
For rapid response in scheduling, call and speak directly to one of our Service Appointment Schedulers at 877-361-2363 or use our Online Service Scheduler.
What are your service hours?
We are scheduling appointments Monday-Friday 7:30am – 5:00pm. Saturdays and Sundays are closed. Please call for availability.
Our Showroom Is Open By Appointment Only
Can I still test-drive a vehicle?
Yes! We are open by appointment only to test-drive the vehicle of your choice. Please call us at 877-361-2173 to arrange an appointment. We have taken extra precautions such as steering wheel covers and sanitizing touch points before you drive the vehicle.
Should you prefer not to come into the store, we are available to bring the test-drive to you if in the local area. Please call us for more information.
What are your sales hours?
By appointment Monday-Friday 10:00am – 6:00pm and Saturdays 9:00am – 5:00pm. Sundays are closed. Please call for availability.
Do I need to come into the dealership to complete a vehicle purchase?
No, most of your purchase can be done online. When the purchase is complete, you are welcome to take delivery at the store or we can bring the vehicle to you! Some solutions include: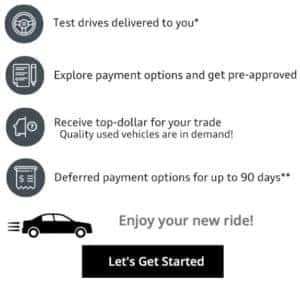 Contact us for more information and to get your vehicle purchase started today!
*Delivery is at dealer discretion based on store proximity to customer. All vehicles will be sanitized prior to delivery.
**Based on approved credit. See store for details. For retail finance loans only. Lease contracts do not apply. 650 Minimum FICO. Subject to credit approval. Good until March 31st 2020. Subject to program changes. 2017 models or newer.